---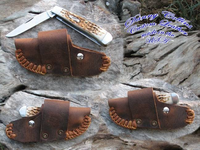 These buffalo quick draw knife sheathes are constructed from the finest buffalo leather available.


The blade rides on a nylon bushing and dose not touch any metal. The knife is automatically opened when the knife is drawn from the holster.
The sheath can be worn on either side and is available in two sizes.