---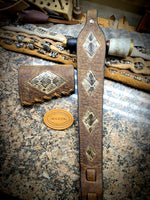 Warning!! This Badlands Bison may cause spontaneous grunting, swelling of the man card, urges to eat red meat and other masculine behaviors.
If you're looking for a unique item for yourself or as a gift for the hunter in your life look no further. These Badlands Bison rifle slings are 100% hand made here at my shop in S.E Oklahoma. These slings are built from one of my all time favorite leathers and inlayed with genuine western diamondback rattlesnake.

These slings are made to order one at a time. Turnaround time is approximately 2-3 weeks.
Be sure to also check out the matching Butt cuffs and leaver wraps.

Made in the USA