---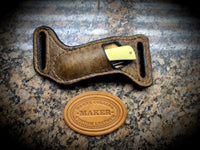 Warning!! This Badlands Bison may cause spontaneous grunting, swelling of the man card, urges to eat red meat and other masculine behaviors.
These badlands bison horizontal carry Case Trapper knife sheathes are made here at my shop in Oklahoma from one of my all time favorite leathers. The sheaths are available in both left and right side carry.

These sheathes fit the Case Sod Buster Jr
( 3 5/8 closed) and similar sized folders.
Matching belts and wallets will be available in the coming days.

American Heritage Edition

Made in the USA