---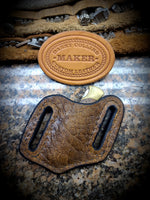 Warning!! This Badlands Bison may cause spontaneous grunting, swelling of the man card, urges to eat red meat and other masculine behaviors.
These knife sheathes are made here at my shop in Oklahoma from one of my all time favorite leathers. These Badlands sheaths are lined with the finest American made veg tanned leather available insuring they will last for years. 
These sheathes fit small folders like the buck 55 (3 3/8 closed) and other simular sized folding knives. Sheaths are reversible so they can be worn on the left or right side. 


American Heritage Edition
Made in the USA 🇺🇸